SchoolTool helps wrangle student data and reporting, so you can focus your time on connections and relationships.
Dashboards
Visualize the big picture with interactive data
With insurmountable student data at your fingertips, it can be easy to become immobilized and unsure of where to even begin sorting through it all.

Thankfully, SchoolTool dashboards provide users with an interactive way to view aggregated data and analyze trends!
Administrators and teachers can create and manipulate graphs, charts, and tables in a variety of ways to quickly navigate and obtain the desired information they are curious about.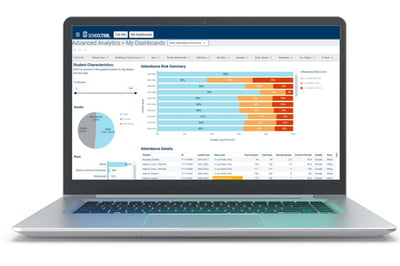 Users can customize their dashboards with filters from an extensive list of fields, hover or drill down to view additional details about the data, save dashboard views they access repeatedly, and export the chart data into a variety of formats.
Having all the data in the world is useless if you're unable to understand what you're looking at and turn it into actionable analytics.
SchoolTool offers many dashboards to assist you, including the ones we've featured below:
Reports
Save time with built-in and custom reports
SchoolTool supplies a countless number of standard (and customizable!) reports.
We're also constantly adding new reports based on the latest state requirements, district needs, and special requests.
Here are just a few of our favorite reports available to SchoolTool customers, several of which are in support of unique New York State requirements:
Exports
The power of raw data in your own hands
The amount of data feeding any Student Management System can be overwhelming to navigate.
We have interactive dashboards, and plenty of out-of-the-box reports to help you aggregate, understand, and report student data quickly—but if those aren't enough, our flexible custom export tools let you slice-and-dice the data however you need and want it.

Learn more about some of the exports available: