Easy to Use Technology
Designed with all its users in mind
Savvy
We're always looking for ways to enhance a user's experience with SchoolTool.
Modern Look and Feel
SchoolTool can be accessed across a variety of operating systems and devices, and has a fresh look and feel that's intuitive and easy on the eyes.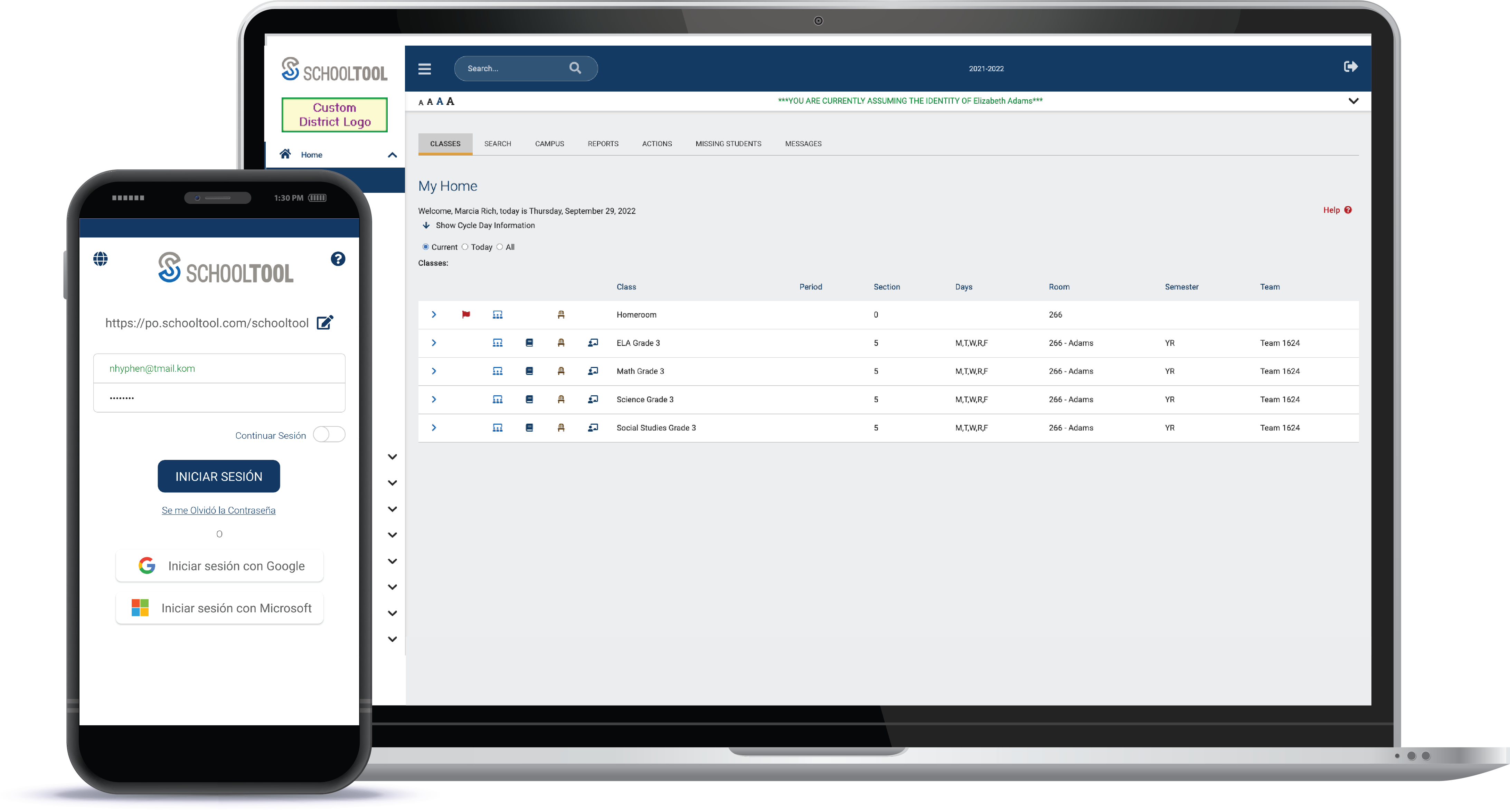 Parent Portal
SchoolTool is not only available via an easy-to-use mobile app, but through a web browser as well.
This Parent Portal is yet another convenient way parents can check grades and see class schedules, communicate with teachers, access their child's records, and more.

Single Sign-On (SSO)
Using single sign-on, users can access SchoolTool wherever they are - whether on Desktops, Smartphones, or Tablets - using just one set of credentials.
Not only does this make it easier for users, but also improves your security posture through centralized credentials and management there of.

Multi-Lingual Mobile App
Our mobile app makes student grades and class schedules conveniently available to parents wherever they are and whenever they want.
Parents can customize notifications they would like from teachers, as well as receive critical district-wide communications from the Superintendent's office.
¡

Nuestra

app

también está disponible en

Español

!
I do think that SchoolTool is very user-friendly, and I believe our parents feel that it's user-friendly, too, especially with the changes to the mobile app. The app is important because parents are always using their phones.
Sue C.
Principal at Holley Central School District
SUPPORTIVE
Extra little things that make a big impact.

Team Teaching
Do you have teachers tied to the same course section and co-teaching kids together?
Teamwork makes the dream work, after all! SchoolTool allows for multiple teachers to be assigned to a section, making it quick and easy to set up co-taught courses without the need to get creative "faking the system" with pretend teachers to represent both. This also allows for any NYS reporting to go smoothly for these unique teaching situations.

In-App Help
SchoolTool provides documentation and tutorial videos that offer relevant how-to information to users.
For example, teachers can access instructional videos on the spot if they need help taking attendance, setting up grade books, submitting grades, adding discipline information, and more. The in-app help also allows users to access relevant help content from any screen within SchoolTool.

Online Pre-Registration
Families are empowered to enroll students and enter data at their convenience.
Parents can save time and effort registering their child by skipping a visit to the district office and completing pre-registration online. Districts can easily review and import this data into SchoolTool.
BOCES Integration
BOCES staff and home districts offering BOCES Career and Technical Education (CTE) programs are able to sync student data in real-time, reducing overhead to ensure educators are not only productive, but informed and able to offer the most conducive classroom environment possible.
Here are all of our BOCES partners




























CUSTOMIZABLE
You don't need to understand code to customize SchoolTool to your unique needs.
Custom (User-Defined) Screens
We know every district may desire the ability to configure SchoolTool to make it their own.
With our custom screens, staff can create any forms, admin messaging, or screens for attachments (files for parents and/or teachers to download) for anything that might be missing from the SchoolTool system. For example, staff can create a form for transportation that can be integrated with online pre-registration. These screens can be enabled in the mobile app too, allowing districts to gather data from parents regardless of the device they prefer to use. This is especially useful for critical data collection activities, like the NYS Digital Equity Survey.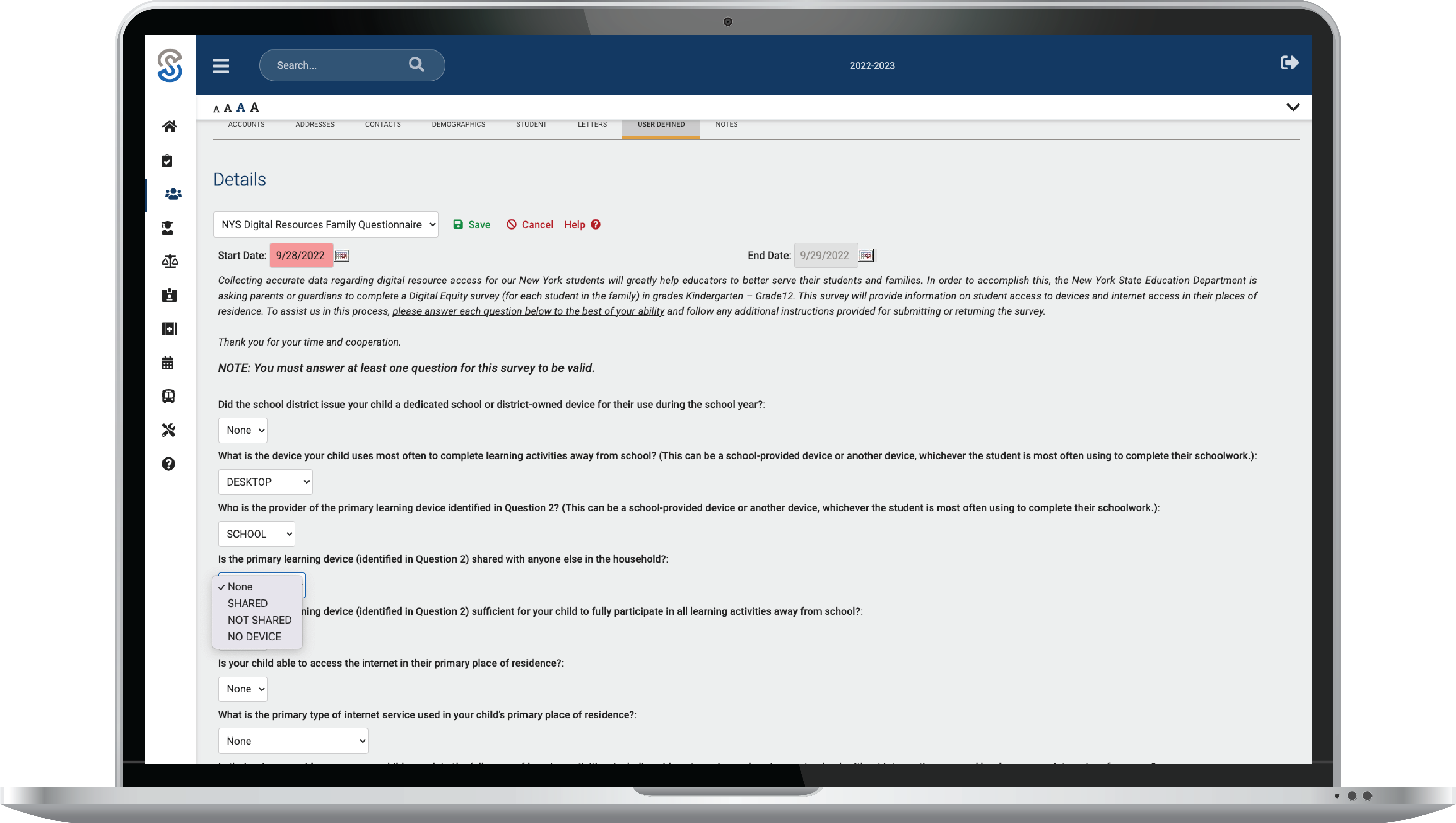 Flexible Dashboards & Reports
With SchoolTool, you can create custom dashboards and generate reports.
Users can customize their dashboards with filters from an extensive list of fields, hover or drill down to view additional details about the data, save dashboard views they access repeatedly, and export chart data into a variety of formats.
Learn more about out-of-the-box and custom dashboards and reports→

District-
Specific
Brand
ing
Keeping your district's brand presence is easy with SchoolTool.
Districts can add their own logo to their SchoolTool site, to tie the system into their branding. They can also add their own custom links and system messaging on the login screen to notify their end users about upcoming maintenance or welcome them back to school!

Role-Based Permissions
SchoolTool's granular permission tree ensures that each district can customize how users access the system.
Each user can be given access to only the features they need, and additional system options allow for customization between the different buildings within the district.