Applications are the foundation for what enables companies to run their businesses, and whatever the industry, today's organizations want to become more agile so they can innovate and respond to changes faster. 
The issue is, as IT organizations are finding it difficult to keep up because they're saddled with the growing burden of maintaining legacy infrastructure and managing a portfolio of applications that are complex and built over a long period of time. They've also got challenges with:

---
Licensing costs

---
Inability to scale

---
Technical Debt

---
Security and Compliance

---
Skills Misalignment
Why Modernize?
Application Modernization

is the process of progressively transforming

existing

workloads, applications, and infrastructure to extend into higher value cloud-native services that unlock new business capabilities, accelerate innovation, and help reduce technical debt.
It can help your organization tackle the very challenges your IT staff are experiencing today!
Licensing Costs
One of the key reasons why application modernization is important is the rising and unpredictable costs of licensed software. Many businesses, including yours (and we can help!), rely on licensed software for their operations. However, these costs can quickly become burdensome. As technology advances and new software versions are released, companies often face the need to upgrade licenses or purchase additional ones to stay current. This can result in significant financial strain, particularly for smaller businesses with limited budgets.

By modernizing your applications, you can reduce your reliance on licensed software and explore more cost-effective alternatives like open-source solutions or cloud-based platforms. This approach not only helps control licensing costs but also offers greater flexibility and scalability for future business growth.



Inability to Scale
Scaling applications effectively is a key challenge. As demands grow, applications must handle increased traffic without sacrificing performance. Failure to meet these demands leads to slow loading times, crashes, and a poor user experience. Investing in application modernization allows your business to address these challenges and ensure scalability to meet your needs.
Technical Debt
Application modernization helps your business effectively manage technical debt. Legacy applications, with their outdated technologies and architectures, accumulate technical debt over time, making them costly and time-consuming to maintain. This hampers innovation and diverts resources from strategic initiatives. By modernizing applications, you can reduce technical debt and optimize your IT infrastructure, freeing up valuable resources for innovation and growth.
Security & Compliance
Older software systems often lack the necessary updates and security measures to protect your business against modern threats and meet compliance standards. By modernizing your applications, you can implement the latest security protocols and ensure compliance with industry regulations. This not only protects your business's sensitive data but also builds trust with customers and stakeholders.

Skills Misalignment
As technology evolves, traditional on-premises practices may not suit the cloud environment. Application modernization is crucial to update existing applications and align them with cloud operating models. Partnering with an experienced cloud provider like Mindex ensures a successful modernization process.
DID YOU KNOW?
With over 500 million new apps expected to be built in the next few years, organizations will need to find a balance between managing technology and building new features.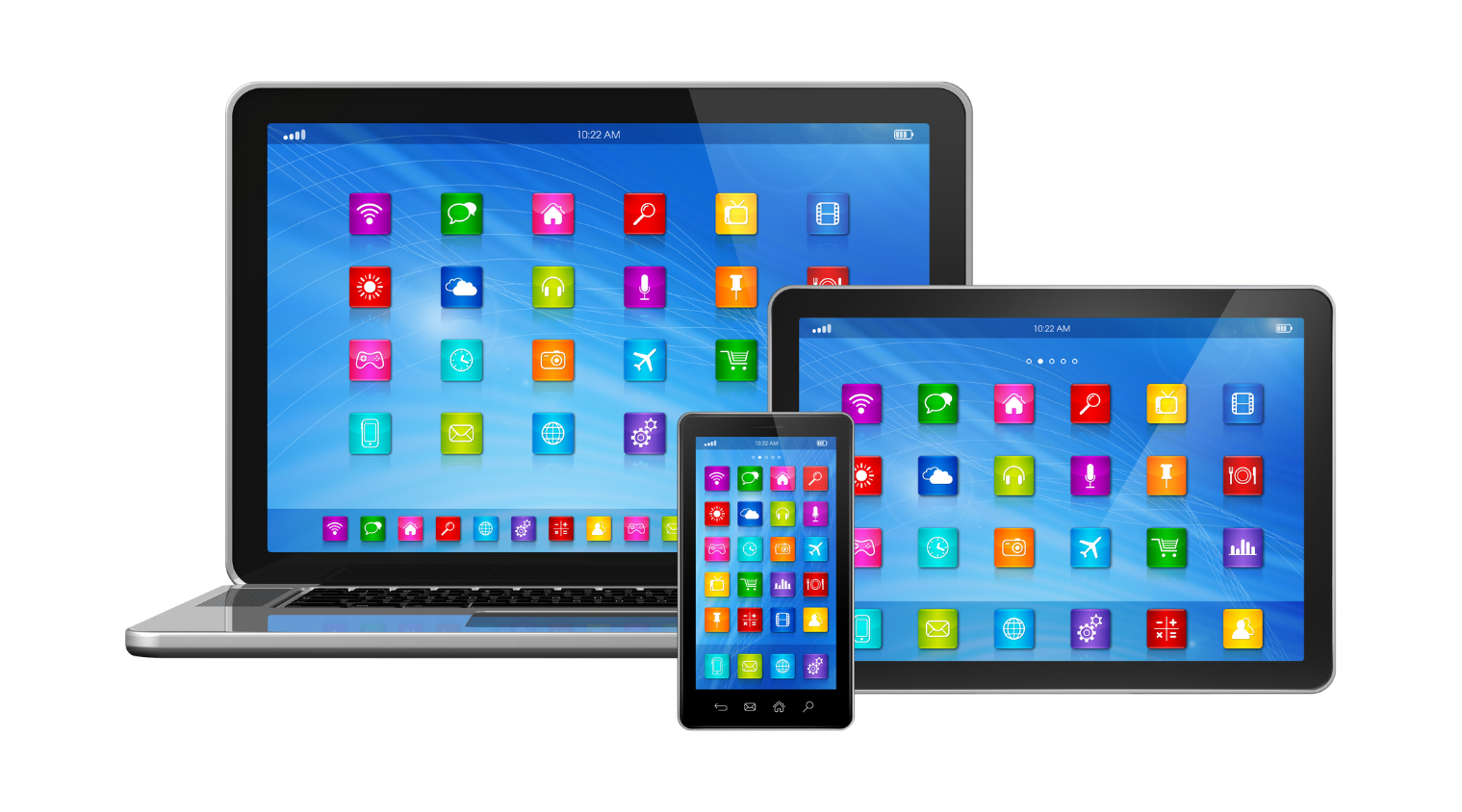 What an amazing group of versatile professionals! They are always willing to jump in and diagnose any issue we may have, and it seems as though anyone can step up to the plate when needed. Considering the time constraints of having to bring them up to speed due to switching vendors, I couldn't be more pleased with how seamless the transition went. The Mindex team is always eager and willing to help us transition to newer technologies and architectures. Their depth of knowledge and assistance is invaluable to us at this point.
Senior Software Engineer, Automotive Services company
Your Modernization Journey
Partnering with Mindex
Our team has experience helping organizations of all ages, industries, and geographies benefit from the cloud, and can help you optimize results and provide prescriptive guidance throughout every phase of your journey. As you resize your application portfolio, migrate to the cloud, and modernize your applications and infrastructure, Mindex will help you meet your goals, upskill your teams, and accelerate positive business outcomes every step of the way!
Determining Your Modernization Pathway(s)
For applications, there are a range of options available for you to modernize, which we call "modernization pathways" – or the actions you can take to transform your existing applications to bring them into a more cloud-sympathetic architecture.
If you're an organization with a large application estate, it's unlikely that each app follows the same modernization pathway. Our strategy at Mindex for application modernization is grounded in ensuring we serve our customers no matter the approach they take.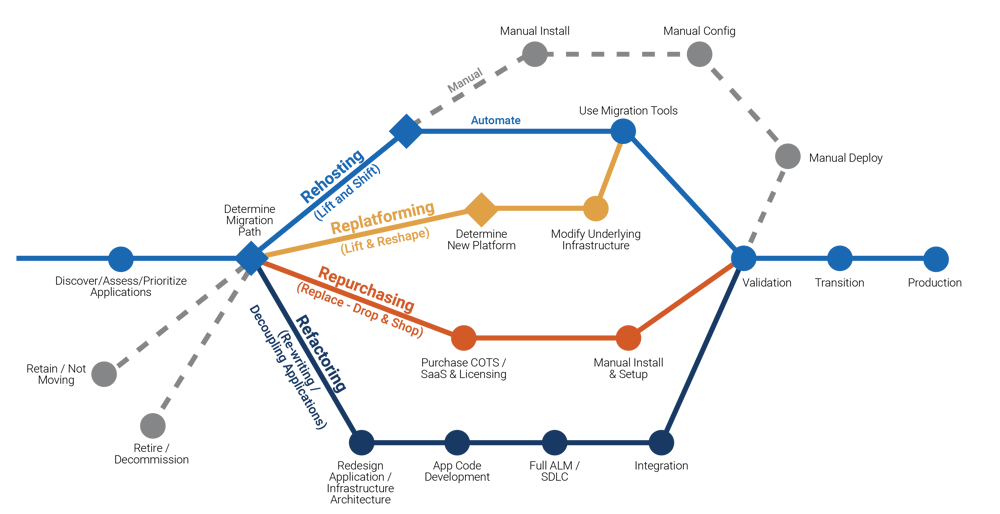 When you re-evaluate your application portfolio, you have the opportunity to consider the best path for each, considering functional, feature, or business requirements. We call these decisions the 7 R's (retain, retire, relocate, rehost, repurchase, re-platform, and refactor), and they are all part of your cloud journey toward realizing the benefits of the cloud.
For example, for some applications, you may choose to move to the cloud as-is to gain total cost of ownership (TCO) benefits, and for others, you may want to invest in rewriting the application in a cloud native manner to maximize your agility.

Approaching modernization in a unified, holistic way is key! The more we're able to work with you to understand the technical makeup and customer value of your applications, the better equipped we'll be to guide you in making sound decisions that can reduce costs and help you build and maintain the momentum you need to sustain long-term transformation.
Creating Your Business Case
When results of a migration and operating in a cloud-first development environment are realized too slowly (or aren't properly quantified and communicated), the business case weakens— potentially jeopardizing the project's financing and support as executive buy-in wanes. Our team of cloud experts understands that moving to the cloud with speed is a critical first step, and will work with you to create an achievable business case and deliver results quickly so you don't lose momentum.
The end result: Business Transformation
Ready to reduce the operational burden of managing an application that continues to show its age (and not to mention, is putting the future of your business at risk)? Let's chat to see how we can help accelerate modernization so you can manage less, build faster, and innovate more.