Download EBOOK for free today
Reduce Licensing Costs and Modernize Enterprise Workloads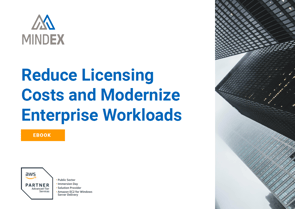 Cost optimization in the cloud
Cost optimization has repeatedly been ranked as the top cloud initiative for businesses for half a decade. This is in many ways unsurprising, after all, what business does not prioritize cost reduction? It does, however, speak to the challenges organizations face when attempting to keep costs low and the constant need to discover inventive ways of doing so.
One often overlooked area where money can be saved is in license optimization for third-party software.
This eBook discusses how an AWS Optimization and Licensing Assessment (OLA) shows you how to save on third party licensing costs and run your resources more efficiently, enabling you to model your deployment options using your existing licensing entitlements and reduce costs at an average of 36% in the process!
Licensing costs are a significant part of the total IT environment and need to be taken into consideration when costs are important in the migration to the cloud. Download this eBook to learn more.
(A new window will open with the PDF)